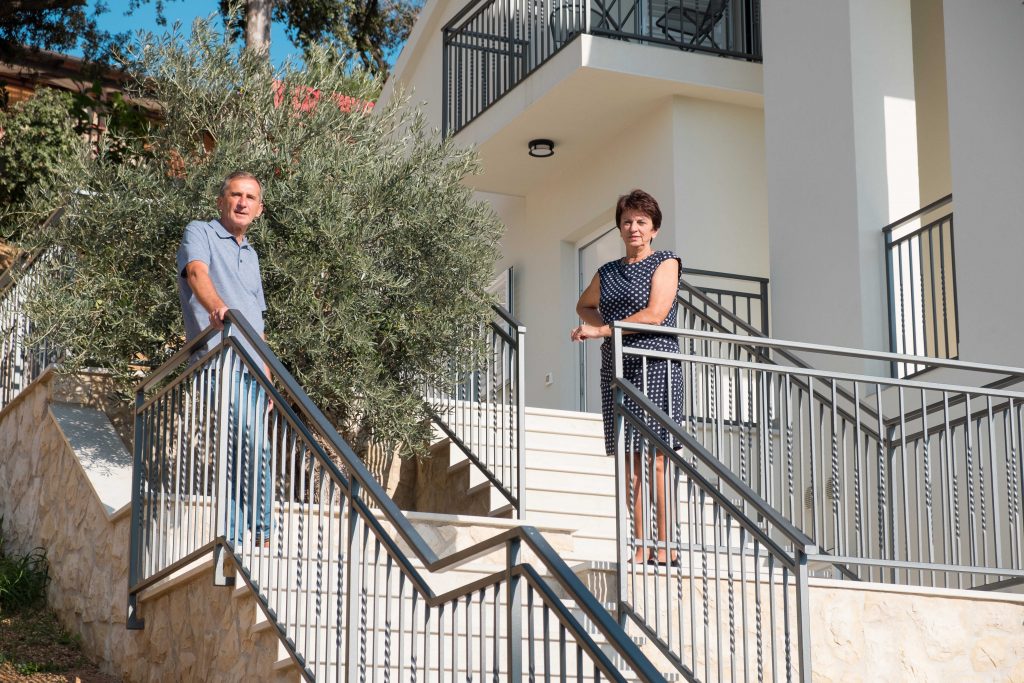 Croatia
Very young, much in love, completely inexperienced and without any idea where we would be ending up, we, Mila and Stjepan, emigrated from eastern Croatia to the Netherlands well over 45 years ago, to continue our studies. Saying goodbye to our towns of Valpovo and Belisce, our friends, and our family was truly painful. At the time, we only had one desire. To return to our beloved Croatia as soon as possible. In the early 1980s, we commissioned a house in Zagreb but, following the birth of our second daughter, we decided to remain in the Netherlands, and to continue building on our life there.
The house in Zagreb that had been empty all these years has now been sold and Milahomes in Mali Lošinj could be partly financed.
Why Lošinj?
In 2005, Mila – who found her calling in care work in 2001 – and several representatives of healthcare insurance companies in the Netherlands went on a tour of Croatia to explore the possibilities for a collaboration between the two countries. The final destination of the trip was the island of Lošinj, with a visit to its clinic for asthma, allergies, and lung disease.
Towards the end of 2006, Mila developed pneumonia, which lasted more than six weeks. The information she was given about curing respiratory issues during her visit to Lošinj in 2005 – and which had made a huge impact on her at the time – resulted in an immediate relocation to Lošinj in 2007, after consultation with her GP.
Within days, Mila noticed that here stay on Lošinj was having a beneficial effect. Mila is not one to speak of miraculous recoveries, but she is convinced that the island's clean air – still 0% pollution – the scent of pine, and the evaporation of sea salts combined with the smell of sage, lavender, and many other types of plants and trees are still the best remedy for ailments of the airways, asthma, and allergies. From that point, we have been going on holiday to Lošinj an average of twice per year – in spring and in late autumn.
Our Paradise on Earth
In 2015, as we were walking through Poljana II, we came across an old house that was for sale. A very old holiday home, in a serious state of neglect, in a truly gorgeous location. With a wonderful seaside location, breathtaking views from the terrace, lots of vegetation and trees. A short, five-minute walk would let a person pass through the pinewoods and withdraw into their own personal stretch of untamed sea and beach.
Without needing much time to think, we decided to buy the house and its wonderful location. Soon, our daughters realised what a magnificent place it was – and what a shame it would be to do nothing more than rebuild the old house, which had initially been our plan. They suggested we demolish the old home (70 m²) and build a completely new villa, together. Once we had obtained the necessary permits, we began demolishing the old house and building the new one in the autumn of 2017. Using a quality workforce and our own high standards, our little paradise on earth was constructed and furbished with the highest level of attention to detail and quality.
Sort of Returning to Croatia
In 2021, we reach retirement age. We will not be re-emigrating – Rotterdam is our city, and the Netherlands is our second homeland – but we will be staying in Lošinj often to fully enjoy this wonderful island, but moreover, to ensure we keep an active lifestyle. This means our former wish to return to Croatia has, after all, partly been fulfilled.
We hope to welcome you to one of our exclusive Milahomes holiday homes to enjoy the island – which has come to be paradise on earth for us. We would love to share our experiences with Lošinj with you while enjoying a glass of Croatian wine on one of the terraces or in the garden of Milahomes. We guarantee that, once you visit Lošinj, you will never want anything else.